Biuletyn / Bulletin – 24-ego stycznia 2016 roku / January 24, 2016
Parafia p.w. Narodzenia Najświętszej Maryi Panny
ST. MARY'S POLISH PARISH
21 Wesley St., Sydney, NS, B1N 2M5
(meeting until our rebuilding at Holy Redeemer Church
with thanks to our friends of Holy Redeemer Parish)
Tel.: (902) 564-4847
www.stmaryspolishparish.ca
Witamy wszystkich! Welcome to all!
We are pleased to share our faith and rich traditions with the whole community.
Established in 1913. Our second century of faith and service … WE WILL RISE AGAIN
PROBOSZCZ/PASTOR:  Father Paul Murphy 564-4355

MSZY/MASSES: Sunday at 9:30 a.m. (temporarily at Holy Redeemer Church)
Wednesday Masses on hold until we rebuild our church.
Novena to Our Lady of Częstochowa will now be said before Sunday Masses.
SPOWIEDŹ:  Godzina do uzgodnienia z księdzem.
SACRAMENT OF RECONCILIATION: Anytime upon request to the priest.
SAKRAMENT CHRZTU ŚWIĘTEGO:  Prosimy o kontakt z księdzem conajmniej na 1 miesiąc przed planowaną datę.
SACRAMENT OF BAPTISM: Please contact the priest at least one month in advance.

SAKRAMENT MAŁZEŃSTWA:   Zapowiedzi powinny być ogłoszone conajmniej na 6 miesięcy przed planowaną datę.
SACRAMENT OF MATRIMONY: Intentions must be announced at least six months in advance.
______________________________________________________________________________
Trzecia Niedziela zwykła / Third Sunday of Ordinary Time
TODAY'S MASS INTENTION is for Fred Lachowicz offered by Marjorie Ardelli and Paul MacKinnon. Wieczny odpoczynek racz Mu dać Panie, a swiatłość wiekuista niechaj Mu świeci na wieki wieków. Amen
Eucharistic Minister for today: Janet Hawthorne
Ushers for collection today: Joe Gillis, Robert Melski Jr.
______________________________________________________________________________
NASTĘPNY TYDZIEŃ / THE WEEK AHEAD
WEDNESDAY MASSES are on hold while we rebuild. Please note that Father Paul leads the Novena to Our Lady of Czestochowa every Sunday before Mass (starting at about 9:10 a.m.). Copies of the Novena are at the back of the church.
Sunday, January 31, 9:30 a.m.
Lectors:  Elaine Tynski-Shipley, Anna Wesolkowska                                                                    
Eucharistic Minister: Suzanne Campbell
Altar Servers:  Caleigh, Luca, Matthew
Ushers: Tony Gniewek, Toni LaRusic
Greeters: Victoria Aucoin, Stephanie Black
Collection receipts for Sunday, January 17: reduced attendance due to snowstorm.
MASS CARDS: To reserve Mass Intentions please call Carolyn Ardelli-Kiley 902-539-1725.
IN MEMORIAM DONATION: To make an In Memoriam donation, please speak with Shauna MacKay. These will be acknowledged in the bulletin. Building Fund contributions will go toward the new church. To contribute to the Rebuilding Fund, if you do not have an envelope, you can write on your regular envelope or cheque "Designated to the Rebuilding of St. Mary's Polish Church."
"IMIENINY" (NAME DAYS) FOR THE COMING WEEK. Help to maintain a longstanding Polish Catholic tradition by acknowledging relatives, friends, and colleagues who are celebrating their "name day," corresponding with the feast day of a saint of the same name.  Where there is more than one saint of the same name who has been assigned a day, your "name day" is the one closest to your birthday. It is customary in the Polish tradition to acknowledge the name day of a relative or friend:
January 24: Felicja, Rafaela, Rafał, Tymoteusz
January 25: Miłosz, Miłowan, Miłowit, Paweł, Tatiana
January 26: Paula, Paulina, Wanda
January 27: Angelika, Ilona, Julian
January 28: Agnieszka, Augustyn, Julian, Karol, Piotr, Radomir
January 29: Hanna, Walerian, Zdzisław
January 30: Feliks, Gerard, Maciej, Marcin, Martyna, Sebastian
January 31: Euzebiusz, Jan, Piotr
______________________________________________________________________________
OGŁOSZENIA / ANNOUNCEMENTS
KARTKA POCZTOWA: Please send our new post cards to friends. It's part of our fund-raising appeal for the rebuilding! The picture shows how our church will look this spring. Dziękujemy bardzo!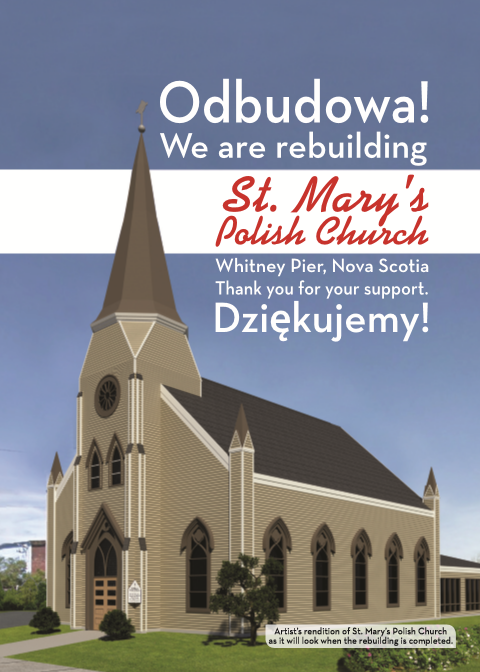 REQUEST TO OUR PARISH FROM THE WHITNEY PIER YOUTH CLUB: The Whitney Pier Youth Club is looking for one or two seniors from our parish who could spend an afternoon with the youth and staff explaining a traditional Polish meal and maybe preparing a few dishes. It would be some time in February. It's part of a seniors-youth initiative. If you can help, please let Tom Urbaniak know (902-563-1226). Thanks so much!
WEEK OF PRAYER FOR CHRISTIAN UNITY: (continues until tomorrow). This year, the Christians of Latvia have developed the resources that are being used around the world. The theme is "Called to proclaim the mighty acts of God (1 Peter 2:9). As explained by the Canadian Council of Churches, this means, for Christians of all denominations: "Healing wounds. Wars, conflicts and abuses have wounded the people of Latvia and many other countries. God's grace helps us to beg forgiveness for the obstacles which prevent reconciliation and healing, to receive mercy, and to grow in holiness. Searching for truth and unity. Awareness of our common identity in Christ calls us to work towards answering the questions that still divide us as Christians. Like the disciples on the road to Emmaus, we are called to share our experiences, and so discover that, in our common pilgrimage, Jesus Christ is among us. An active commitment to human dignity. Christians who have been brought out of darkness into the marvellous light of the Kingdom recognize the extraordinary dignity of all human life. Through common social and charitable projects we reach out to the poor, the needy, the addicted, and the marginalized."
TO CONTRIBUTE ON-LINE TO OUR REBUILDING, PLEASE GO TO OUR PARISH WEB HOME PAGE (www.stmaryspolishparish.ca) and please click the link to our Canada Helps donation page. It's a secure system and you'll receive your charitable tax receipt promptly. Thanks for your support! Please spread the word.
REBUILDING FUND ENVELOPES are at the back of the church. Thank you for your support.
REBUILDING FUND CONTRIBUTIONS: Building Fund contributions will go toward the new church. To contribute to the rebuilding if you do not have an envelope, you can also write on your regular envelope or cheque "Designated to the Rebuilding of St. Mary's Polish Church."
THE RENOVATED AND REFURBISHED POLISH VILLAGE HALL is a comfortable, well appointed, modernized venue for events large and small. Please consider renting the hall for your events. Please call 564-8494.
PLEASE CHECK OUT OUR ON-LINE "VIRTUAL TOUR" AND AN 8.5 MINUTE PARISH WELCOME VIDEO ON OUR WEBSITE:  www.stmaryspolishparish.ca
Życzenia na miłego nowego tygodnia / Wishing you a blessed week! Bóg zapłać!
______________________________________________________________________________
TODAY'S HYMNS: Please see bulletin insert for the words.
Entrance: Ojcze z Niebios [Father From Heaven]
Offertory: Pobłogosław Jezu Drogi [Yesterday in the Evening]
Communion: Zróbcie Mu miejsce [Make for Him Room]
Post-Communion: Do Twej dążym kaplicy [I Will Make it to Your Chapel]
Closing: Liczę na Ciebie Ojcze  [I am Relying on You, Father]
______________________________________________________________________________
A LETTER TO ST. MARY'S POLISH PARISH FROM SARNIA, ONTARIO:
I am sending heartfelt greetings from the women of the Catholic Women's League from Our Lady Queen of Peace Church in Sarnia.
We received word of your appeal for financial help for the rebuilding of your church that was destroyed by fire. We wanted, in a small way, to be part of your project. Please accept this modest donation, from the heart.
Sarnia is located beside the American border, in Ontario. As in many towns and cities in Canada, Sarnia has a small group of people of Polish background who are working hard to uphold our Polish traditions, history, and above all faith.
Thanks to the original post-war immigrants, we have a beautiful church that was built by them. We meet there for collective prayer, and the church has a hall in which Polish meetings and gatherings take place.
A few years ago, we were under threat of losing our church because of the lack of priests. Thanks to God, and lots of efforts on the part of parishioners, we managed to maintain the Polish church. We therefore understand your pain and we're all the more motivated to help.
We are impressed with your work, your perseverance, and your engagement in cultivating Polish traditions.
It's our wish that your work on rebuilding is successful and that you can gather in prayer "in the heart of your Polish community and your faith."
God bless! On behalf of the members of the Catholic Women's League
– Joanna Kazanecka